1. Create a daily system that helps you stay productive, focused on your money making tasks + on track to reach your goals
2. Create your biz systems (+ document them)
3. Set up a tool for managing your projects + team
4. Implement automations that save you time + money
5. Outsource tasks you don't have time for so you focus on growing your biz
I created Streamline + Simplify Your Biz to help you do exactly that.
This 5 step system will make your business work FOR you so you can lessen your workload + increase your income

Here's what you'll get: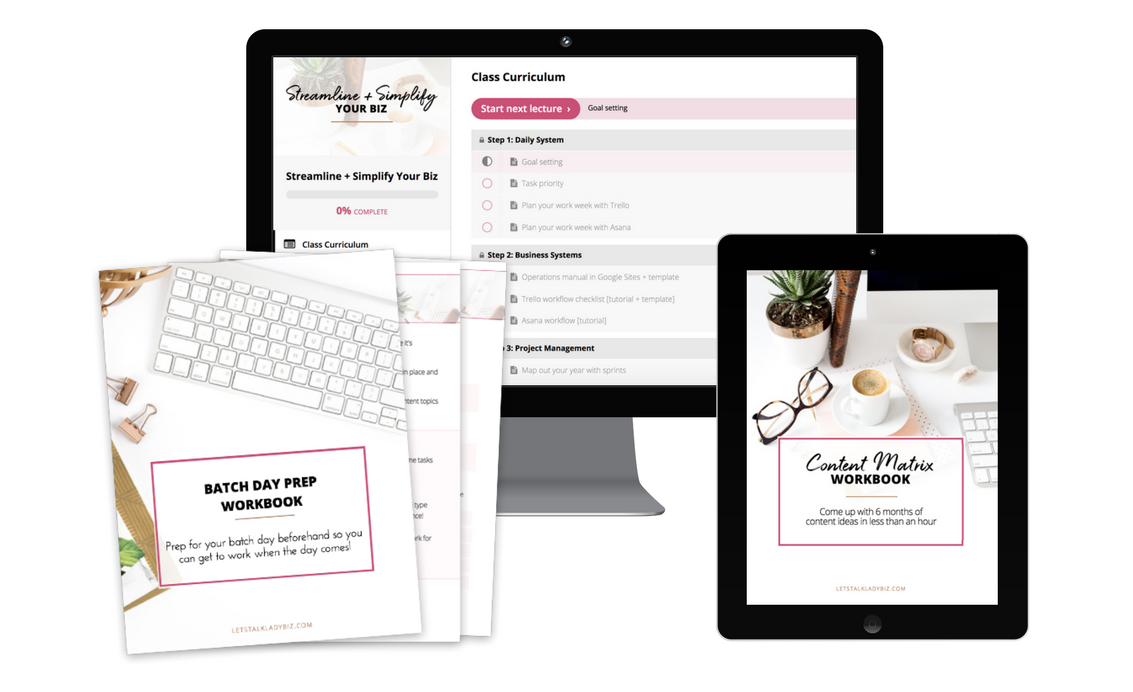 Streamline + Simplify Your Biz is a 5 week program made up of 5 core steps:


Map out your goals and structure your days to make sure each task you work on is helping you reach them.

Learn how to create your Operations Manual and get my template to easily brand and fill in for your biz. I'll show you how to transfer the systems in your Ops Manual to your choice of Trello or Asana.

Map out your yearly goals into 6 week sprints. You'll break those big goals down into 6 week goals, and small tasks. I walk you through how I set up my Trello board for each sprint + give you my exact template. Asana lovers: I'll walk you through creating your to-do list, setting up projects and how to manage your team.

Implement sustainable strategies that simplify your systems, automate your processes, + bring in consistent income. Not tech savvy? No worries, I show you step-by-step how to implement each of these strategies.


Simplify your outsourcing process, easily hand off tasks to your team, and streamline communication with team members.
Want bonuses?
I'm helping you simplify + automate your 2 most time consuming tasks: social media + content creation

---

---

I run things behind-the-scenes of savvy biz owners' businesses.
Which means I see all the pieces that go into running their biz.
I see what works, what doesn't, and what can work even better.